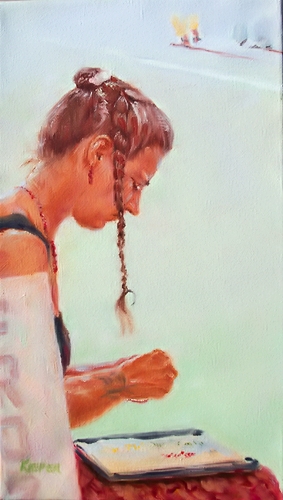 "Buyers"
Oil on canvas, 14" x 8"

$350 (US customers only) PURCHASE INFO
The Two Harbors "Heritage Days" festival is an annual event held in a community park on Lake Superior's southwest shore. The tourists bustle in this town in the summer for good reason: gift shops, restaurants, motels, a spectacular view of the Lake and the art. From a tourist's perspective, it's a day sauntering from place to place, soaking up the clean Minnesota air and taking in all the goodies. The artists at this event, on the other hand, sit in the blazing sun for hours on end for the duration of the festival hoping for a nibble. The tourist season is short in this part of the country, so making a living as an artist is a concentrated effort. As one among the masses, I saw this woman out the corner of my eye sitting in front of a beautiful display of her artwork demonstrating an unusual beading project. But no one was watching.

I was intrigued by her expression as she worked. Her hair was braided in a way that only an artist could fashion, her skirt was long and colorful, even the tattoos on her forearms were tasteful. But the expression. the furrowed brow, drew me in. I took a quick pic, then walked on by to the next artist's booth. After I developed the film, I realized that, in the upper right corner of the pic, the feet of two ladies were visible ... just the feet and part of the calves, walking away. Those feet coupled with the furrowed brow told a story. Perhaps the ladies had stood at the artist's booth for some time, closely watching her work, asking a miriad of questions, making the artist's heart beat faster with hope of a sale.

It's to be expected that art fair patrons engage the artist, fully interested, but not necessarily buying. Many non-artists are intrigued by artists in general. Some regard us as "different", because we possess an uncommon skill. When such an interested party moves on without buying, though, after exhausting whatever conversation there might be in a situation like that, the artist must take a deep breath and attempt to rekindle hope for the next potential buyer. I didn't know what actually happened here. The artist's expression may have been due to eye strain. The ladies' feet may not have been retreating from this artist at all. But I felt compelled to put it on canvas. It was familiar territory. To me, it represented the working artist's struggle to survive.