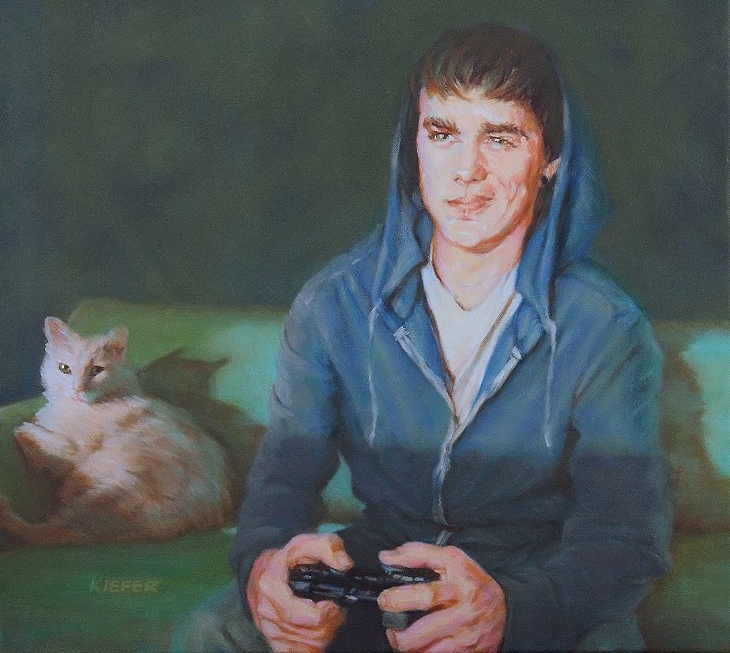 "Influence"
Oil on canvas, 16" x 20"

$350 (US customers only) PURCHASE INFO
Luckily, the son of one of my students agreed to pose for us. He is artistic by nature and readily understood what we were looking for. I'd asked him to bring a few props so that he would have something tangible to focus on during the session. The x-box seemed to hold the most promise for bringing out an expression. It so happend that my cat, Pity, joined him on the couch, so he became part of the scene.

Toward the end of the session, I had asked Gabe to attempt an improvization, to imagine himself in the midst of a rousing game. We had positioned him in front of a large, North-facing window. The stark, cool light pouring onto his face and upper torso beautifully simulated the light of a TV screen. I took a few photos while I painted, trying to capture a specific expression. At one point, he squinted one eye as he squished his imaginary opponent, Pity looking directly at me. Oh, snnnap!

A correlation developed in my mind between Pity's ruthless hunting escapades and Gabe's determination to beat his x-box foe. The title was born out of that connection. Who was influencing whom on that couch? I knew I would want to incorporate that particular expression, coupled with Pity's serious stare, into the final image, so once the live session was done, I used the photo as reference to modify the live painting image to suit my objective.