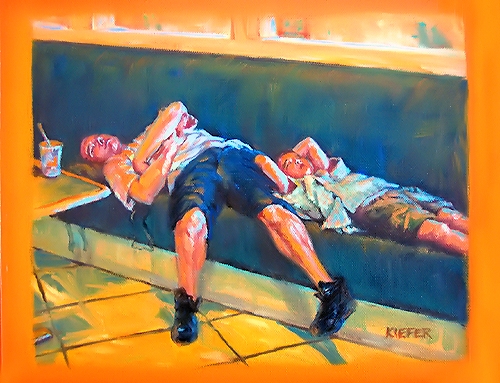 "Layover"
Oil on canvas, 11" x 14"

$500 (US customers only) PURCHASE INFO
I had over an hour layover at the Seattle airport, so I wandered around the terminals to pass the time, snapping reference photos of the building. At one point, I happened onto the sight of these two brothers, completely conked out on a bench in a concession area. I suspect a sugar coma put them there. The image was so interesting to me, though. The body language almost suggested a continuation of the blood line from brother to younger brother. The light was great. From above, the orange lights from heat lamps warming shriveled hotdogs and petrified fries cast a warm glow on top of the boys' figures. At the same time, the cool, blue light, pouring in horizontally from the windows overlooking the tarmac, danced onto the upright parts of the boys from the right.

A lady was sitting nearby. I engaged her in a little conversation and eventually asked if she happened to be the two boys' mother. Luckily she was. I explained that I was an oil painter and asked if she would allow me to take a photo of them for reference. She laughed, "What's so interesting about that ?" I pointed out the extraordinary lighting, but I don't think she found that very interesting either. She could see that I was happy as a clam at the prospect of using this image so she smiled and gave me permission as if to say, "Whatever floats your boat, lady." I'm so glad she agreed to it. This piece won a "Jurors' Award" at an international show in 2008.