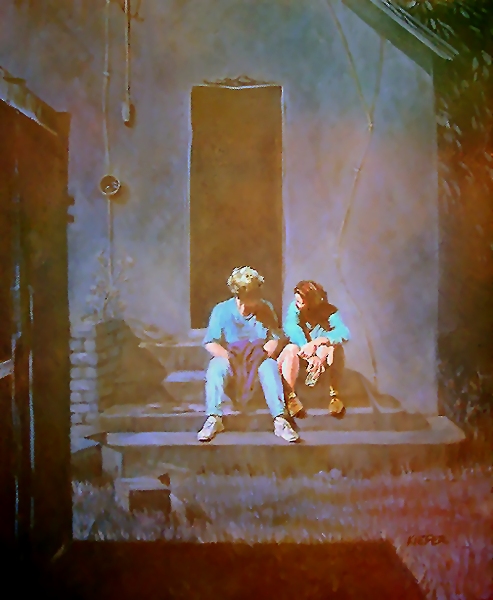 "Remains Unallayed"
Oil on canvas, 22" x 18"

$500 (US customers only) PURCHASE INFO
Have you ever wondered what becomes of those especially intense conversations between friends? Does that energy just vanish? When we put all of our heart and soul into an idea, work, another person or a sentimental object, does it linger? Can a powerful thought be sustained indefinitely? Those questions came to mind on this particular day, at this specific spot, under these exact circumstances. Pictured here is a very good friend of mine (on the right). She sits with her friend, Elaine, on the east stoop of an old farmhouse in which her family had lived for 3 generations. The new Dayton High School was to be built at this location and the old farmhouse, its outbuildings, its gardens, its clothesline, its hard-wrought fields, its tire swing hanging from a massive elm had to go. The elm had actually grown around the rope. The matriarch of the family was seen standing in the yard looking toward the front of the house, remembering. Her children were born in that room there. The beans were snapped every summer on that very porch table with the metal, paint-peeled chairs; the gladiolas grown from cuttings. The great grandchildren were running around laughing, having no life context for it all. It must've been a comfort to hear them giggle.

My friend had told me of this event earlier and suggested that I tag along to get some photographs for possible paintings. I eagerly showed up, camera in hand, not anticipating how guilty I'd feel capturing the moment of their great loss. My presence was endorsed by the family, but it still felt odd. Believe me, there were some images that day that would've made for exciting paintings, but I chose to exercise some discretion.

I couldn't actually hear Elaine and Tami's conversation on those steps, but I could tell it was emotionally charged by their body language. The dumpster in the left foreground would contain the remains of the building within the hour. Even the trim around the door had been carefully removed for safe keeping as if it would somehow bring it all back. Ultimately, the farm didn't survive, but I'd like to think its moments did.