NOV 2, 2014: The "Still Done by Hand" tour ended on Friday afternoon at City Hall with a flourish. Joel Dhein, City Administrator (City of Mora, MN), enthusiastically dug into the bin brimmed full of entries from the 7-month tour. (Thank you, Joel!) He picked the winner (Pam Brown of Mora) who will receive a free custom painting from yours truly. Congratulations, Pam! I will contact her this week to make arrangements. Many thanks to all who entered!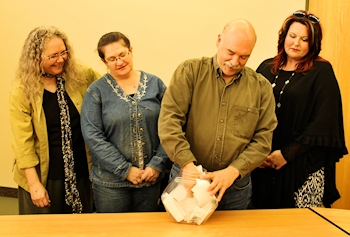 (left to right) Karen Kiefer, Jackie Farley,
Joel Dhein and Leslie McCallum
photo courtesy Dee Kostaska
I took this opportunity to surprise each of the "Still Done by Hand" painting subjects with a parting gift ... their SDBH painting! Throughout the tour I had been trying to think of some way I could show my appreciation for their participation. What better way to end the show than to pass their painting on to them. The paintings are a representation of this moment in time in their careers. In the years ahead, I hope having that image in their possession brings back wonderful memories of their contribution to our community.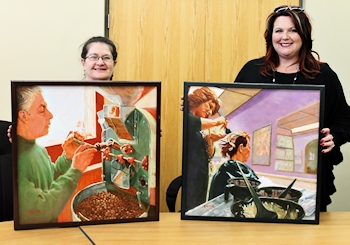 Jackie Farley (Ground House Coffees, Ogilvie) and
Leslie McCallum (Leslie McCallum Salon-Spa, Mora)
photo courtesy Dee Kotaska
This exhibit was a modest attempt to utilize art to bring us home; to provide a means by which the community could see their reflection through those who provide goods and services to us every day. Art can be high minded, ethereal, depicting that which is out of reach, uncommon, rare. But it can also be used to show us what is familiar and comforting. Our lives are sustained daily by our families, faith, friends and, yes, our local businesses. I hope presenting this series, this precious moment in time, to the community has, in some small way, renewed our appreciation for those who contribute to the success of our lives.
After 26 months, the project is complete (heavy sigh goes here). I'd like to thank all who helped bring it to fruition and a special thanks to those who took the time to view the exhibit in the course of their busy lives. This series of five paintings was seen by thousands of people during its 7-month non-stop journey through the towns dotting Highway 23 in East Central Minnesota.
"Hey, that's Nancy at Dandelion Floral! She did my wedding!" and "Isn't that the guy who owns that great little coffee shop in Ogilvie??" These were common responses as viewers, one by one, discovered that they actually
knew
the subjects. To me, that says it all.
OCT 3, 2014: Last Wednesday, the "Still Done by Hand" series was set up as a show for the last time at
Mora City Hall
.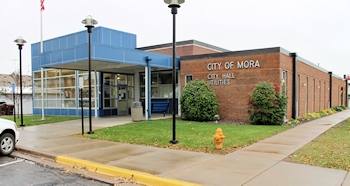 Mora City Hall, Mora, MN
(Business hours are 8am to 4:30pm M-F.)
This venue is the last stop on the 7-month SDBH tour. It will run through the month of October, culminating on the 31st with a get-together of the SDBH participants (the 5 business owners who were the subjects in the SDBH paintings) and representatives of the 10 SDBH tour venues which will take place in the City Council chamber at 3:30pm. That occasion will coincide with the selection of the winner of the Kieferart "Free Custom Painting" drawing. Entries for the drawing have been filled out by viewers of the show throughout the tour. The official drawing will be conducted by Joel Dhein, City Administrator, in the chamber and will be open to the public. The winner need not be present to qualify for the prize.
One of the purposes of the SDBH project was to provide a means of communication between local businesses and their customers that went beyond the impersonal nature of routine advertising. Viewers of the show have had the rare opportunity to read each business owner's story of why they love what they do. Art, which is most often driven by business, in this case has been in the driver's seat. It has the potential to serve not only as a powerful conduit for interaction between client and local business, but between business owners in neigbhboring communities. I'm looking forward to making introductions at this get-together, hopefully creating a forum for those present to share perspectives and perhaps open new possibilities for the future of the region.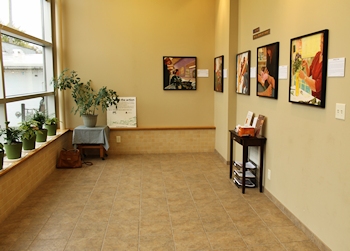 SDBH show at Mora City Hall lobby
Kathleen, City Hall employee pictured here, was extremely helpful in arranging everything associated with the show. Her personable nature and competency made it a particularly good experience for me. Thank you, Kathleen!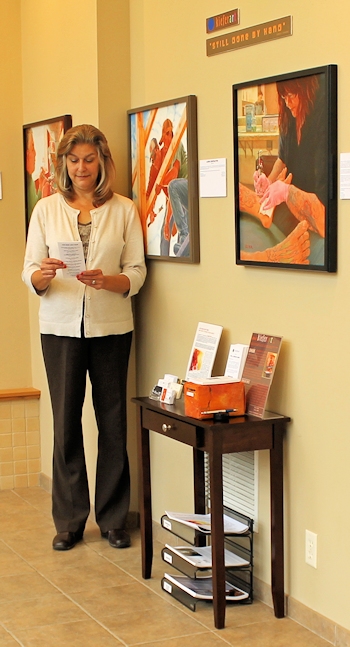 Kathleen McLain-Gall, Mora City Hall
AUG 24, 2014: "Still Done by Hand" has arrived at the
Milaca Arts Center
! Milaca is a quiet, small town in central Minnesota which happens to be located where two main State highways (169 and 23) converge. I've been looking forward to bringing the show here for a few reasons. For one thing, it completes the geographic continuum of the tour, situated on the western-most edge of the 10 venues.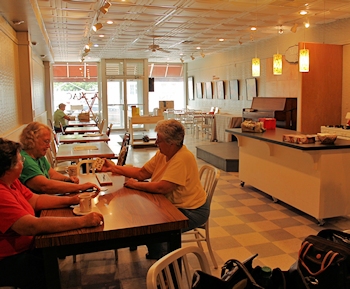 Ladies' cribbage and SDBH show
Another reason I was excited to do this particular venue was because of my admiration for the Milaca Fine Arts Council, headed by Mimi Peterson, artist and art educator. Sometimes, especially in mostly rural areas, art can be a hard sell to the community. But, a few years ago, after some well-crafted meetings with the local City Council, Mimi and other dedicated members of the MFAC managed to convince the town that artists and art deserved a permanent, visible location. It so happened that the City of Milaca owned a storefront property that was being under-utilized as an on and off daytime meeting place for the local seniors. Once they got the go-ahead by local politicians, the MFAC pooled their resources and, within a few months, upgraded and renovated the quaint, long, narrow space so that it could accommodate both the seniors' and the artists' needs. Thanks to the efforts of a few brave souls within the MFAC, vibrant art has found a home in this gem of a town once again.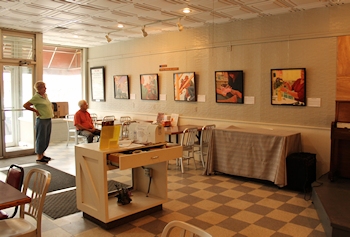 SDBH at the MAC
I say "once again" because another property (also owned by the City) where the art center used to reside was purchased by the neighboring grocery store (which was expanding). After the sale, the building was promptly torn down to put up a parking lot. Seriously, Joni. It had been a really nice space for art: a house converted to law offices converted to an art gallery. Poof.
Asphalt
. The arts were homeless for quite awhile until Mimi and the MFAC rescued them.
The current space is very modest, don't get me wrong. It does not have the architectural glitz of the Guthrie or the Walker or the Guggenheim, but it doesn't need to. It never needs to. It is simply a vessel that brings us a bright, new atmosphere: a celebration of the human spirit through the creative efforts of artists and musicians.
As I was hanging the show in there last Friday, the air was filled with a lively mix of conversation emanating from a gaggle of retired gentlemen on one end and the cribbage ladies on the other ... all there just because they could be. The art,
my show
, was there just because it could be. I think somewhere an angel got its wings.
(See my companion post, same date, in the
NOTIONS
section of the kieferart blog.)
JULY 18, 2014: The show is now at First Citizens National Bank in Mora where it will remain through August 21st.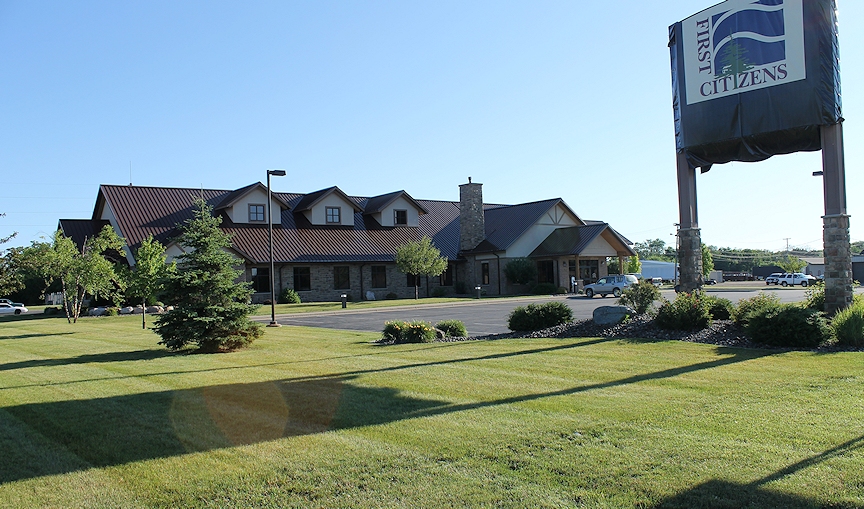 First Citizens National Bank
(formerly Kanabec State Bank)
This is a beautiful place. The lobby is something you'd more likely find at a high-end ski resort ... stone fireplace, live deep-green plants, comfy chairs, contemporary design elements. The "Still Done by Hand" paintings are nestled comfortably here in the bank's inviting lobby area. It's the kind of place you might gravitate toward in the course of your day; a quiet place that you could curl up with a good book, even if you had no banking to do.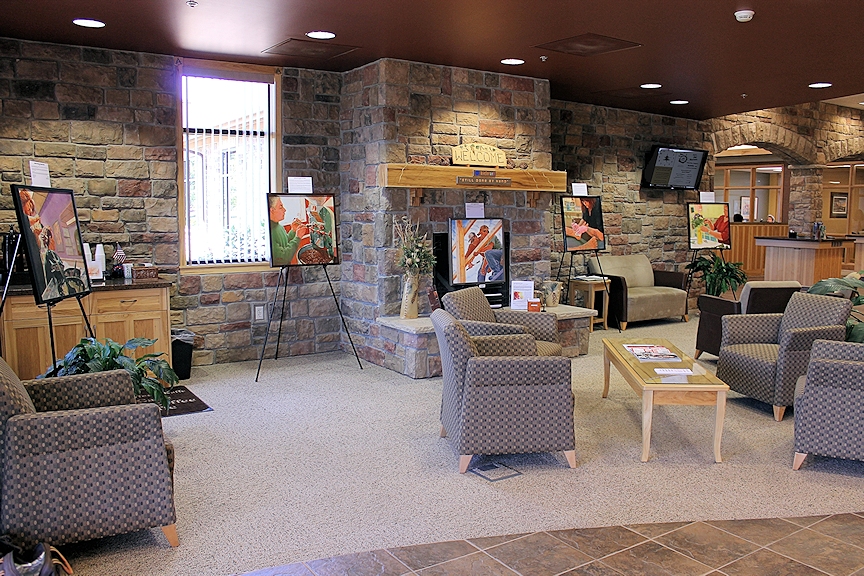 First Citizens Lobby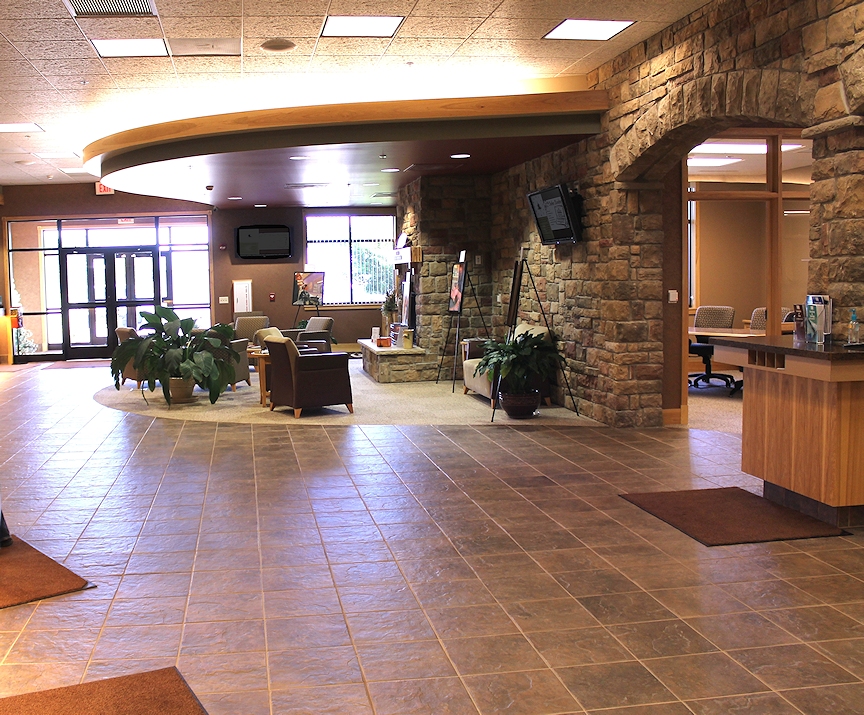 (Lobby View from South)
Vicki Vork, a longtime employee of the bank (pictured below) was very enthusiastic from day one when I first approached her with the idea of the show last summer. When I told her that it was likely some of the business owners depicted in the paintings banked there and that, certainly, many of her existing customers frequented their shops locally, she was sold. She welcomed the "Still Done by Hand" show with open arms.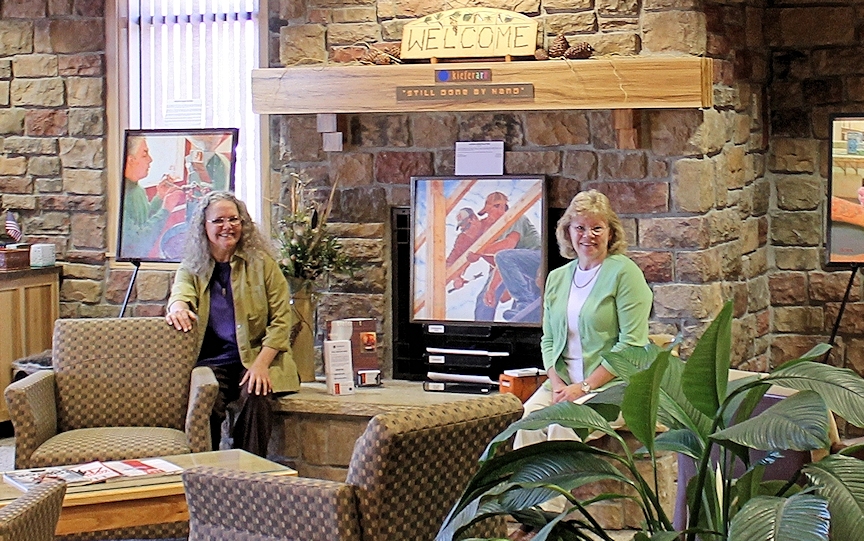 Vicki Vork, employee
First Citizens National Bank
There were a few glitches here and there (see my June 19th post re: heads up). First of all, I was unaware that the bank was to change names during the show. I learned of this about a week ago, long after the 1,000 "Still Done by Hand" programs had been printed. (The bank's former name prominently appears in the tour schedule on the program.) These programs have been widely distributed since the tour began on April 1st and will remain with the show through October 31st. Coincidentally, my first venue, The Greater Minnesota Credit Union, has also changed its name since the tour began. It is now called "Spire". On the bright side, it's job security for the people who print their business cards. In any case, I think the name change was recent enough that at least the locals will know where to go.
The second glitch had to do with logistics. Now under new leadership, a few changes were made in the configuration of the lobby, including the installation of a rather large coffee sideboard which had been placed precisely where my display was originally planned to be located. The addition of that sideboard ironically resulted in the paintings being spread out more within the lobby, punctuated by that gorgeous fireplace, which gave them more of a normal "living room" context. This positioning also makes the show much easier to view from just about any angle. That wouldn't have been the case otherwise.
If you happen to be in the vicinity of the corner of Interstate Highways 23 and 65 on the north end of town, drop on in for a few minutes and say hello to Vicki. She is front and center as you walk in and will assuredly greet you with a smile. And, btw, don't forget to bring that good book ;) For more info about the bank, click
here
.
JULY 1, 2014: Monday the show was moved from the Mora deli to Ground House Coffees in Ogilvie. Pictured below is Jackie Farley. She and her husband, Charley (who is a subject in the "Still Done by Hand" paintings, seen second from the left at the top of this page) converted this former gas station into a bustling high end coffee shop. What the business may lack in square footage, easily makes up in quality products and atmosphere. I love that place. Everyone does. You can count on Jackie, Charley and the staff to make you feel right at home and serve up the freshest coffee in the area, featuring in-house-roasted organic, natural, fair trade, rain forest alliance, or shade grown coffees. Their freshly-baked goods (also made in house) are truly wonderful. I ordered a quiche for my anniversary a few years back that was to die for.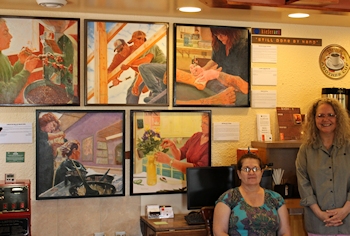 Jackie Farley, Ground House Coffees, Ogilvie, MN
photo courtesy Arlin Jones
Moving the show yesterday was a little tricky due to the wind, but nothing compared to the icy blizzard I encountered mounting the show at its first venue last April. I'll always have that to compare to. The challenge here at the coffee shop was wall space. Although the Farleys have created a very roomy environment for their sit-down customers, options to mount my paintings side by side (which normally need about 14' linear feet to be shown properly) were limited due to permanent structures and vents built into the walls. I knew this going in so Jackie and I had to be creative. We finally settled on the south wall next to the roaster which had the least obstructions. It's a bit tight for the size of the paintings (which are 25" wide), but I think we made it work. One of my students, Natasha, who frequents the shop told me, "It's certainly eye catching". That it is.
The show will be here for two weeks. I'm proud to have the opportunity to show in my home town. Thank you Jackie and Charley! You're the best. For more info about the coffee shop and all it has to offer, click
here
. If you happen to go there after reading this, tell them I sent ya.
JUN 19, 2014: In the midst of the whirlwind phase of the tour (2 week runs per venue), the "Still Done by Hand" show has now moved to the deli in Mora, MN.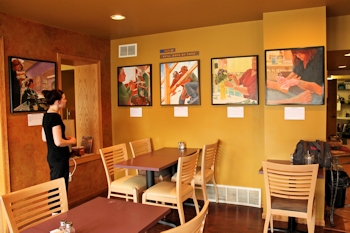 Downtown Deli Cafe and Bistro
It rained most of the day last Saturday during the transfer of the show from the History Center to the Deli, but at least there were no tornadoes and the wind was minimal, so all went relatively well. After unloading all of my wares into the deli to mount the show, one of the employees told me that the deli owner, Denise Nordstrom, was unable to meet me as planned that morning. We had spoken earlier that week and it was decided that she would meet me at the deli near closing time (11am), I would set up the show and then she would lock up behind me. So what to do? She suggested that I do what I can in the 15 minutes or so while the two employees were still there cleaning up and then return Monday morning to finish. That would have presented more problems having to work during one of the busiest times of day at the deli (customers grabbing a quick coffee and a snack before work), so I just decided to work VERY fast and try to finish while her employees were there. Somehow I managed. It must've looked like time lapse photography or, more likely, Keystone Cops. I have to thank Hannah (pictured above), one of the employees, who was very helpful and patient, not knowing that I had been scheduled to be there and under foot while she was trying to sweep the floor and tidy up the chairs. She was a real champ.
I was glad I had mounted this particular show five times before, knowing pretty much what went where. With this show, it's more than just hanging the 5 paintings. Even that takes a bit of time, since all the venues are different. There is a lot of measuring and leveling. But also each of the paintings have their own "merchant statement" (mounted on foam core) which needs to be placed evenly near its respective painting. Then the "Still Done by Hand" signs above the paintings need to be positioned in a way that is eye catching but not obnoxious. Finally, all of the other display materials (business cards for the participants and myself, the SDBH programs, the "Free Custom Portrait" entry box, etc.) need to be strategically placed near the paintings so that onlookers can read about the evolution of the show and what it's all about. In the larger tour venues I actually tote around a small table which is used within the display for much of that stuff. Here at the deli, which is a long, narrow storefront-type business, I had to make due with alcoves and whatnot to display everything. No room for the table. I think I must have set a record that morning getting it all in order. But you know, there's always something. It's a heads up situation every time. You create the work in the quiet of your studio then bring it out into the wild, wooly world. It's what makes you feel alive.
For more info on the deli, click
here
.
JUN 3, 2014: Yesterday I packed up the show from Peoples National Bank of Mora. Several bank employees went out of their way to tell me that everyone really loved it. Much appreciation goes to Gail Berglof, a Peoples' banker, who facilitates rotating art shows there. I was unable to get a photograph of her, but I wanted to acknowledge her efforts in showcasing local artists' work on a regular basis. Enlightened people like Gail create the conduit between those of us who produce art and our public. Thank you!
That same day, I took the show across town to the Kanabec County History Center, a highlight of Mora. The grounds are beautifully landscaped by volunteer horticulturists. The old Coin School is also on the property which is used for a variety of public events and classes. The History Center building itself, in addition to housing artifacts from the County's rich history, hosts many events, meetings and exhibits in its spacious conference room. That is where the SDBH show will reside for the next two weeks. Many thanks to Jan Franz who was of great help scheduling my show early on. She will be retiring soon and we will all miss her significant contribution to the arts and, of course, her many years of dedicated work with the County Historical Society.
Dee Kotaska (shown below), who is a professional art photographer and instructor, represents the Kanabec County Art Association here at the History Center, coordinating the organization's shows and doing the hands-on work to mount them.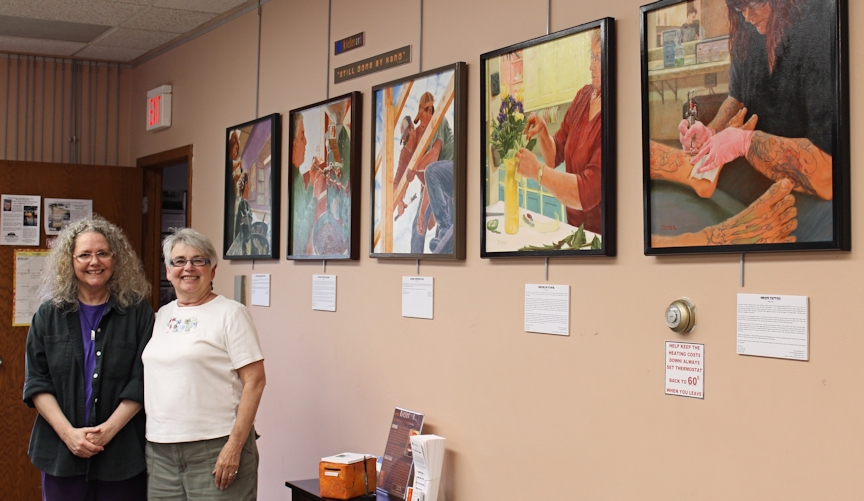 Dee Kotaska, photographer
She, as always, was very helpful as I set up the SDBH show here. Dee is a driving force within the art organization, working tirelessly year round to set up various art shows around town for the members, keeping all of us abreast of art opportunities in the region and contributes creative, new ideas for the organization's future at its bi-monthy board meetings. Thanks for all you do, Dee! You're a treasure.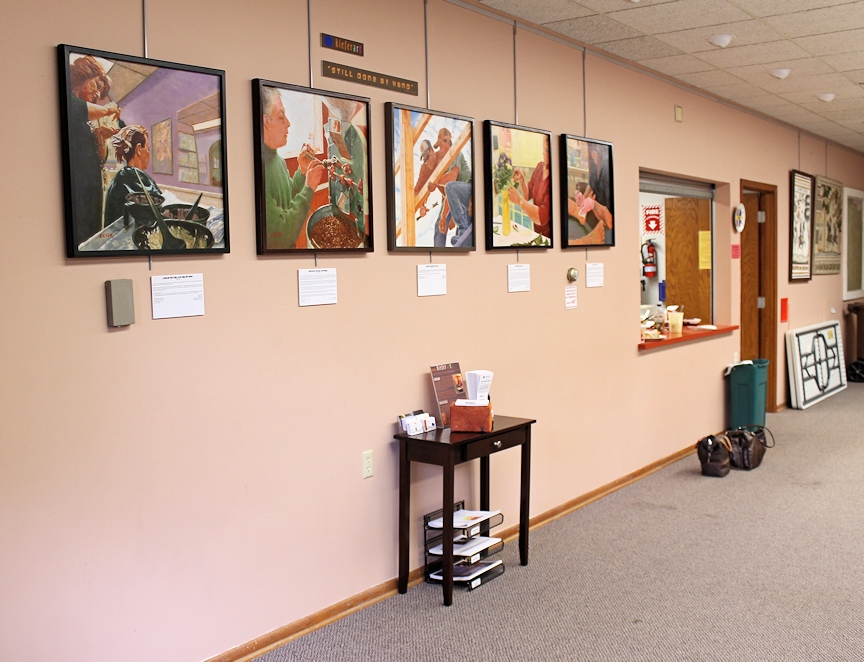 SDBH at Kanabec County History Center
The "Still Done by Hand" exhibit will show at the History Center through June 14th. Check their
website
for business hours.
I'd also like to thank one of the Peoples Bank Vice Presidents, Jodi Schultz (pictured below), who took the time out of her busy day to take a few pix of my show for the bank's
Facebook
page. Thanks for the recognition, Jodi!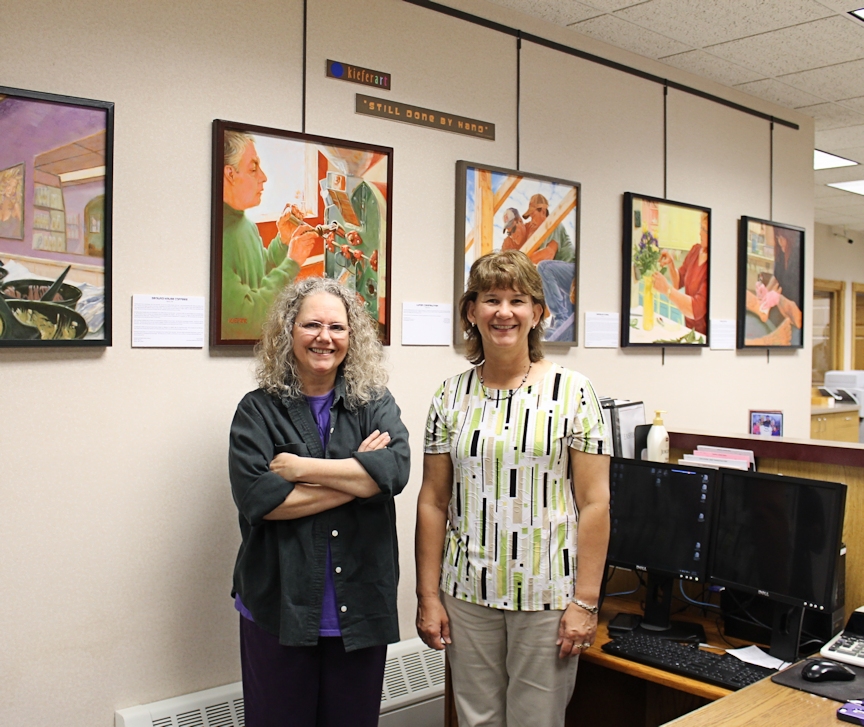 Jodi Schultz, VP, Peoples National Bank of Mora
JUN 1, 2014: The next 6 weeks will be quite a whirlwind (by tour standards), so I'm pumping up my sneakers as we speak. Each of the next three venues will host the show for two weeks only. Tomorrow I will take down the show at People's Bank (which was a month-long exhibit), then mount the show at its next venue, the Kanabec County History Center. From there the show will pick up at the Downtown Deli Cafe and Bistro in Mora and then on to the Ground House Coffees shop in Ogilvie. SDBH will then settle a bit at Kanabec State Bank for a good 5-week run, then on to the Milaca Art Center and, finally, Mora City Hall.
The deli and coffee shop will be a little tricky to mount due to space limitations, but I'm sure I can find a way to fit them in there nicely. Both venues are relatively small, compared to where the show has already been so far, but I'm looking forward to them, because in a way, the 5 paintings will be even more prominent in those intimate and bustling settings.
It's very exciting really. Even though the 7-month tour's reach will evenutally cover only about 23 miles total, the patrons of the various businesses will experience the show in a very different light (both literally and figuratively). Each venue has its own "flavor", attracting locals from every walk of life. The entry box for the "Free Custom Oil Painting" drawing (which has followed the tour) has been packed full at each stop. On the last day of the tour, October 31st, that drawing will be held at the Mora City Hall (the show's final destination). Hopefully many folks who have seen the show will attend as the City Hall Administrator, Joel Dhein, dips into the jar to retrieve the winner's name.
In the meantime, keep posted on events as they unfold. More pix to come!
MAY 3, 2014: Venue #3 is up and running! The show was transferred over to Peoples National Bank of Mora on the 1st. Kathy Hovland, my dear artist friend (pictured here)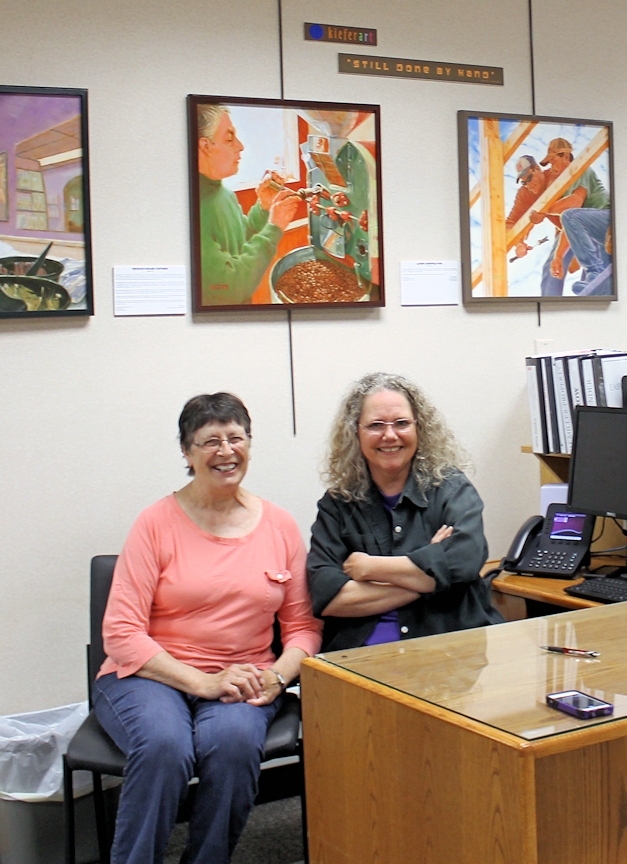 Kathy Hovland
who is in charge of coordinating and mounting the various Kanabec County Art Association rotating shows at the bank and two other Mora venues, was extremely helpful. She introduced me to just about all of the bank employees, bankers and administrators who looked on as I stood on a ladder hanging the paintings. From behind me I heard what has turned out to be common responses, "Hey, that's Leslie! She does my hair! Cool." and "That's Charley from the coffee shop. I love that place."
I'm finding that most people recognize everyone in the paintings except many don't seem to know Fred (who works in the field, not out of a storefront). I'd imagine he will now enjoy superstar status like the others. ;) Seriously, I hope everyone gets a shot in the arm from this. It certainly seems to be generating a lot of conversation and interest.
APR 19, 2014: Well.
"Still Done by Hand"
is no longer just a concept. In the words of the great Boris Karloff, "Itth Alaaaaeeeve!". Much has happened since my last post when I was in full swing setting up the tour. On April Fool's Day, the "Still Done by Hand" paintings were hung at the Greater Minnesota Credit Union in Mora, along with a tasteful table loaded with my business propaganda and that of the participants. When I got in my car to leave, I sighed so deeply I didn't need another breath for what seemed like an hour.
The Branch Manager, Staci Norby, is pictured below. Earlier in the week, I had hand-delivered several SDBH posters around town. I know it was effective by counting the number of entries in my "WIN A FREE CUSTOM PORTRAIT" box ... evidence that the show had been officially seen.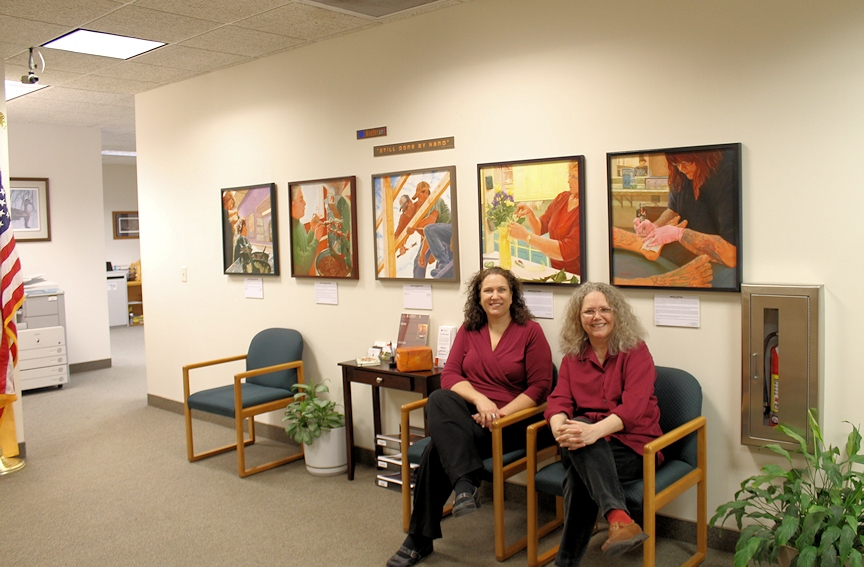 Staci Norby, Branch Manager
Greater Minnesota Credit Union
That first month's showing was scheduled to be interrupted by a second showing at Mora's annual Business Expo, produced by the Mora Area Chamber of Commerce. So on April 9th, I struck the Credit Union show, and re-hung it in my booth at the event which was held on the 11th and 12th. I knew it would be worth the effort, since the "home show" was traditionally well-attended, and it certainly was.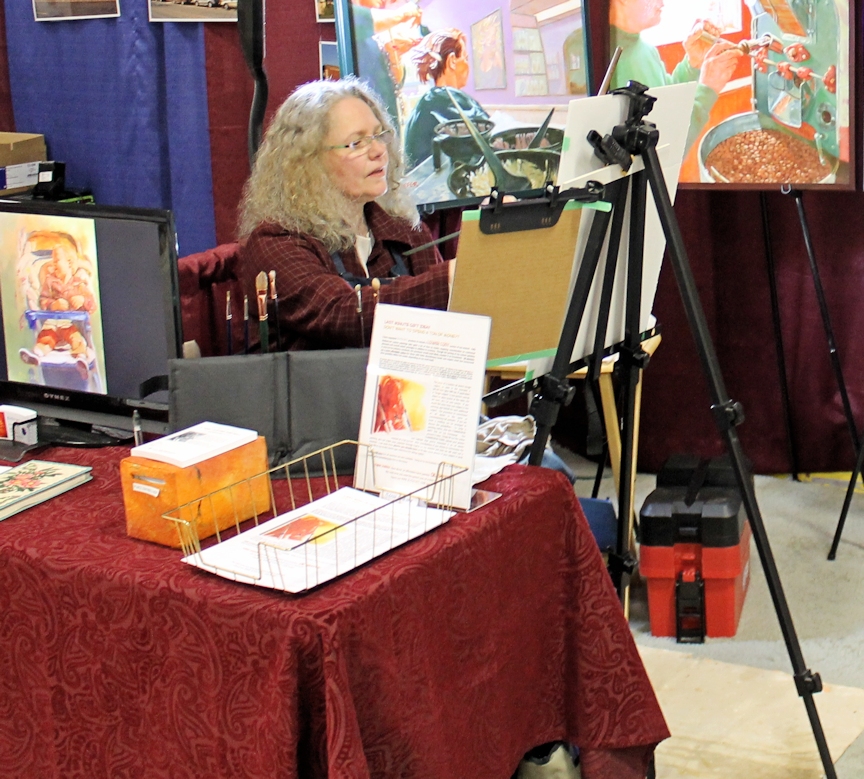 SDBH booth at the Mora Business Expo
I decided to include elements in the booth that would immediately draw people in (in addition to the rather large and colorful SDBH paintings), so I set up a slide show of some of my other works on a hi-rez TV on the table while I demonstrated oil painting. All of this going on in an 8' x 10' space, elbow-to-elbow with adjacent booths. I think it must've worked pretty well, though. Lots of people stood for quite awhile to watch me work and view the slide show which ultimately drew them into the booth to see the "Still Done by Hand" paintings up close. All of the months preparing this special show were definitely worth it when I began overhearing people, one by one, say things like, "Hey, there's Nancy! You know, of Dandelion Floral!" or "That's Kelli! She did my son's tattoo!!". I considered that full circle.
After that very busy weekend, I re-hung the show at the Credit Union where it will stay through month's end, then on to "People's Bank" for the month of May.
There is something kind of organic about a tour of your artwork. It's hung. It's struck. It's different each place, but yet fundamentally the same. It lives, it breathes ... "Ith Alive!"
FEB 24, 2014: There has been a lot of activity at Kieferart in the last few months. Front and center is the "Still Done by Hand" project. This project which began about a year and a half ago, is about to go onto the public stage. All five paintings are complete. 4 of those paintings made their debut at the recent "Vasaloppet Art Show" in Mora, MN garnering very positive reviews. I pounded the pavement a few weeks ago to secure venues for the show's upcoming tour. To my surprise, I found a lot of support for the concept of the show and, consequently, have been able to set a non-stop 7-month "micro" tour locally, covering the Milaca, Ogilvie and Mora areas.
The 5 paintings depict 5 local small business owners who make their living through the use of their skilled hands: a hair stylist, florist, tattoo artist, builder and coffee master. Everyone who sees these paintings will get a taste of home. They know the subjects of these paintings, work with them, buy products and services from them every day. I'm very excited to offer the community a glimpse of themselves through these paintings which highlight the abundant talents we possess right here along the Hwy 23 corridor.