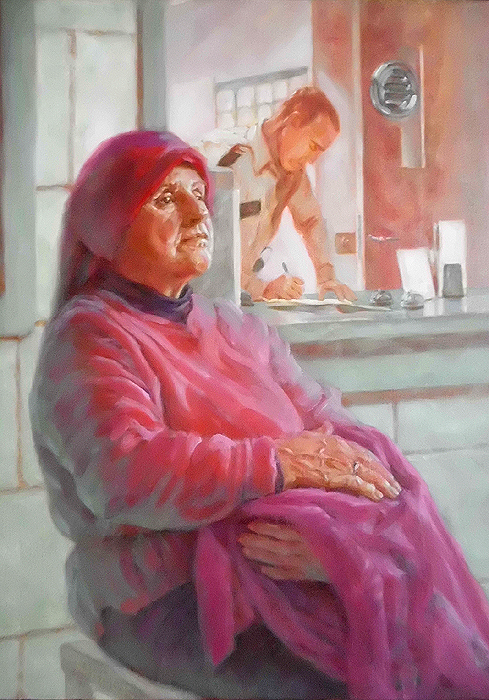 "Talk to the Hand"
Oil on canvas, 16" x 20"

$450 (US customers only) PURCHASE INFO
Originally this painting was of just the woman. She had modeled for my painting class for a few sessions. I'd asked her to bring assorted "props" and alternative clothing items so that my students could try out different looks on her. She was of Baltic heritage, her features rich with character. At one point, one of my students placed a bright red scarf on her, tieing it behind the neck, instantly transforming her into the classic image of a peasant farm worker from long ago, easily a subject for Van Gogh. We simultaneously gasped. I was so inspired that I decided to paint her along with my students. Her expression changed over the course of the 3-hour sitting, subtlely morphing into a resoluteness (most likely resulting from her determination to get through the session without falling asleep, but it worked perfectly for our purposes). As I was finishing the painting, though, it looked too portraity, mostly due to how I placed the figure on the canvas.

What could I do to embellish this, give it context? On a whim, I thought I'd swing by the Kanabec County Courthouse and see if they'd mind if I took a few photographs of their courtroom. I had no idea why I was drawn to that particular place instead of, say, the library or any other public building, but I've learned to not question my instincts when it comes to such things. Unfortunately, the judge wasn't in at the time so I couldn't get permission to take the courtroom pix, but I looked at the building directory on the way out and saw that the Sheriff's Department was downstairs. So I flew down there hoping for ... I don't know what. Without any forethought, I asked the receptionist if there happened to be a uniformed officer available who might be willing to model for me. (What was I doing ?) She smiled, disappeared into the bowels of the Sheriff's offices and within seconds a young, uniformed officer came forward asking, "Where exactly do you want me to stand?". (Are you kidding me?) Without skipping a beat, I asked that he stand behind the plate glass and pose as if he were "writing someone up". He readily agreed. I took a few shots, got his card, shook his hand then got the hell out of there before I exploded laughing. But after I got home and downloaded the images, I slapped my knee and said outloud, "There it IS !".