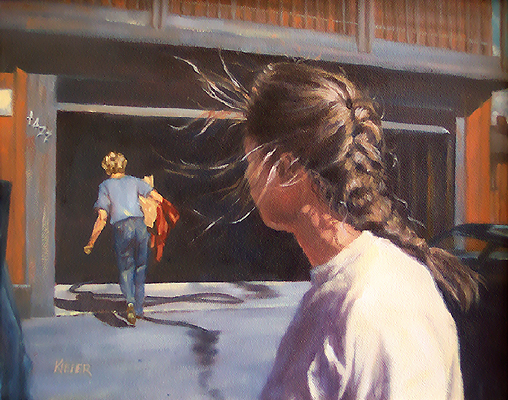 "Foreign Exchange"
Oil on canvas, 11.25" x 13.75"

$400 (US customers only) PURCHASE INFO
The young woman in the foreground was a foreign exchange student, living in the home of the lady carrying the groceries. The Seegers had shown me a box full of photographs of the family. As they flipped through them, this particular image grabbed my attention. The family graciously loaned it to me as a reference pic for a possible painting.

As a photograph, it wasn't that interesting, but, as a painting, there was much more potential for drama and intrigue. What is their relationship? What is their mood? What was said just before the lady turned to walk away?

But how can an artist communicate an idea with the subjects' faces turned away? Viewers, even if they've never been exposed to the arts, are naturally adept at interpreting body language. In this case, the story that's told belongs to the viewer alone, based on their own life experience. Subconsciously, all human beings interpret and draw conclusions every day. This innate skill is, in my view, the foundation of the artist in us all.