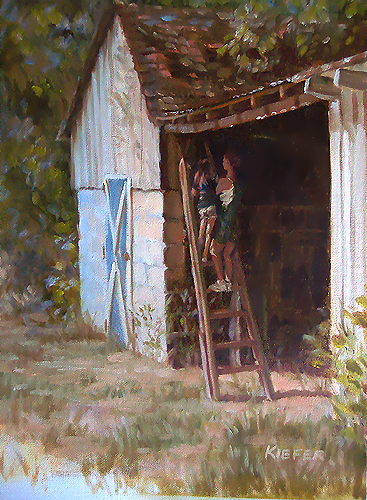 "Trainee"
Oil on canvas, 14" x 11"

$300 (US customers only) PURCHASE INFO
This is my dear friend (who is also featured in my "
On the Rocks
" painting) with the daughter of a friend of hers. Passing along wisdom, whatever form that takes, is as fundamental to life on earth as it gets. A simple scene depicting two generations of females putting their heads together, working something out, was a classic, thematic image for me. In this case, they are together on a ladder inspecting something unknown in the darkness of an old barn.
Shortly after I finished this painting, another friend of mine's husband suddenly died. The couple had lived together on a farm near the Rum River. Their kids had grown, married and moved away. The husband ran a hardwood mill on the property which had sustained the family for decades. Kathy (whom I
painted
as well) has worked as a parttime librarian for many years: a seeker of knowledge by trade. After a certain age, we try to come to terms with our mortality, but when we lose our partner in life, we're left alone and clueless. I wanted to somehow acknowledge her situation and began to prepare a special card. I immediately thought of this painting, wrote a correlating poem and printed it out for her. This page is dedicated to the survivers, to the knowledge seekers.
THE TRAINEE

Hidden in walls
just beyond arm's length
lie secrets of life.

If she could just
grow a little overnight
they could be hers.

The trainee's confidante,
smiling a smile of wisdom,
takes her to a place,
an unlikely, familiar, simple place,
to reach back in memory,
to see through younger eyes,
to find the words
she'll understand.

Eyes wide open,
heart pounding
with anticipation
of living a life
full of secrets and questions,
the trainee returns
again and again.